Great Father's Day Gifts
Golfer's Cooler Bag by Proflowers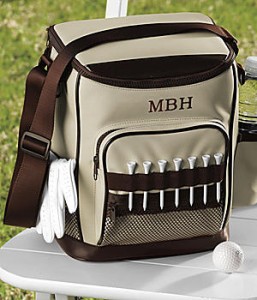 Item Description:
Holds up to a dozen cans
Adjustable shoulder strap
Ice packs recommended to keep beverages even cooler
Measures 12" x 8" x 14" high
Imported
Item #30002995
A cool drink on the back nine might sound like a mirage, but now it's as close as this insulated bag. Made of durable khaki-green nylon microfiber with brown trim, our bag clips onto a golf bag or cart. The insulation keeps drinks and snacks cold longer and side pockets hold golf balls, cell phone and more. May be monogrammed with up to three initials. Exclusive.
Here's To Dad
Item Description:
Galvanized Beverage Tin
Cheese knife
3.75 oz Cheese spread
7.0 oz Beer Nuts
5.0 oz Salami
2.0 oz Smoked almonds
1.5 oz California Crunchies
2.0 oz Three pepper water crackers
1.75 oz Napa Valley mustard
3 – 12 oz Bottles of Dad's root beer
12x12x15
6 lbs
Item #41620
Dad will be rootin' for root beer when he receives this gift of classic proportions! A sensational selection of snacks and frothy Dad's root beer make for a tasty treat and all are ready to be served in this metal tin- Just add ice! He'll enjoy three bottles of Dad's root beer, smoked almonds, salami, Beer Nuts, cheese, three pepper water crackers, Napa Valley Mustard and California Crunchies. Also includes a cheese knife. A Father's Day Feast that he will never forget.
Find these Father's Day Gifts and more at Proflowers, located under the "Father's Day" tab at the top left.







Leave a Reply